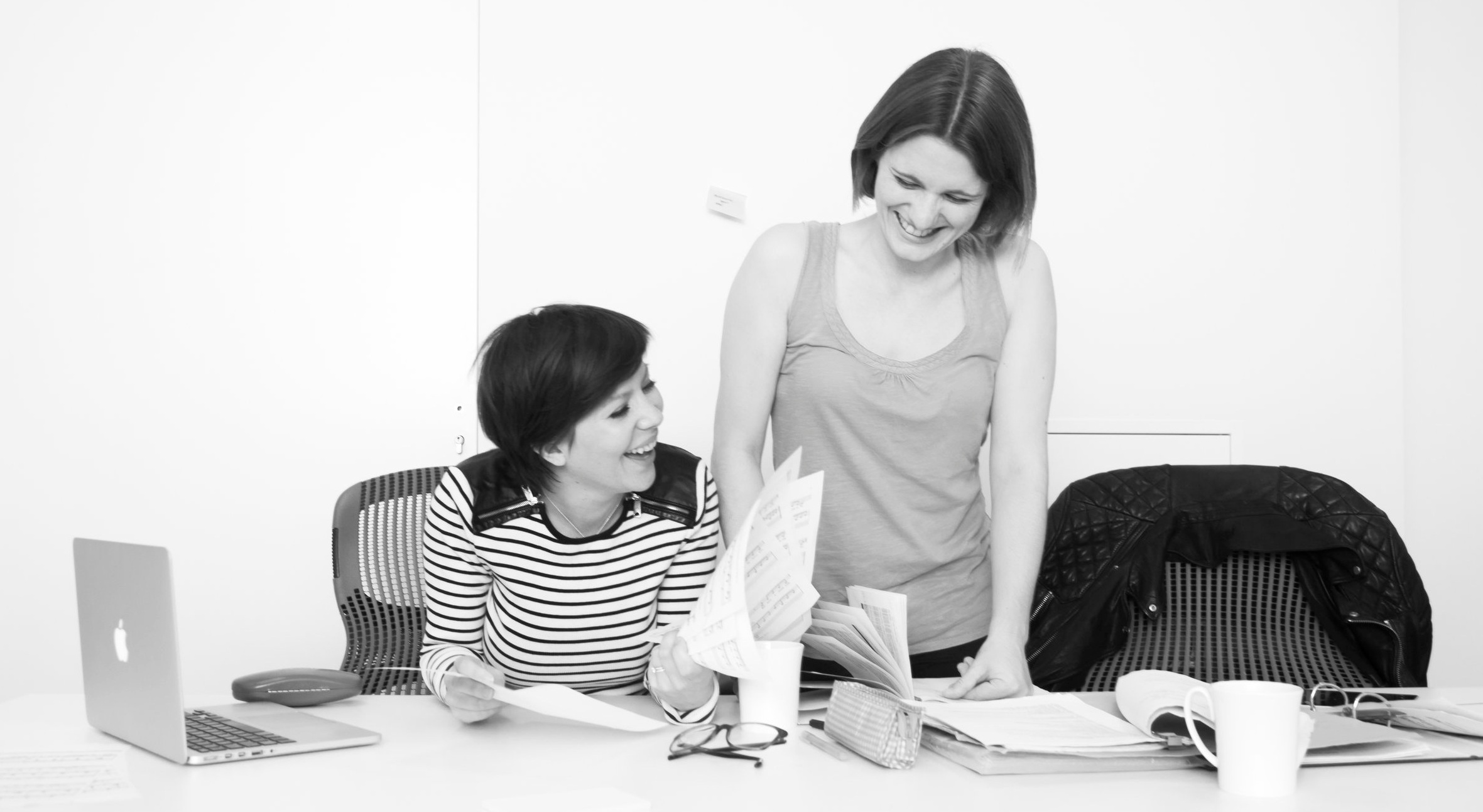 All our musicals have a common thread;
that the thing we are all searching for is already within us,
we just have to discover it for ourselves.
Emily Garsin and Anna Shields met on the steps of London's Central School of Speech and Drama in 2008. Singing around the piano in their student house share, they bonded over musical theatre, Wispa Golds and cats (the animal, not the musical) and decided that writing musicals together was the next logical step.
On graduating they found themselves running a musical theatre summer school and, not content with putting on yet another production of Oliver, decided to write their own original musical for their cast of young performers. Since then they have written three musicals, all of them exploring big questions, life lessons and great stories. They are in the process of writing their fourth musical together; an empowering tale about women and girls, the great things they do and the obstacles that can sometimes block their path to greatness.
When not writing musicals, Garsin & Shields direct Starling Arts and get groups singing across London. They still eat a lot of Wispa Golds.
Find out more about Emily & Anna below.
EMILY GARSIN
Emily realised how much she cared about writing stories when her primary school teacher accused her of copying from a published book… she had in fact handed in her own piece of original work.
Her love of the performing arts started at a young age, playing one of Snow White's dwarf companions in her village ballet show (which is fitting, seeing as she is still very small).
A cultural exchange trip to Ghana aged 15 paved the way for her creative ventures to come. With a group of her peers, she devised and performed a short piece about being a teenager in the UK. In return, Ghanaian students presented their own tales, featuring the slave trade and plight for access to education. It was becoming clear to her that the stage was a brilliant platform for exploring difficult ideas.
Studying Applied Theatre took Emily to London where a house share advert brought her together with Anna. A writing partnership was born, although their first collaboration High Street: the Musical, written during dissertation writing breaks, is best left in Willesden Green, where it was loosely set. Emily and Anna are currently writing their fourth 'proper' musical.
ANNA SHIELDS
Inspired by her Grandmother, whose band of players she spent a childhood performing with, Anna grew up making theatre. She would write short plays and sketches for her brother, cousins and friends to perform and, armed with a tape recorder and microphone, wrote lyrics to the Demos on her keyboard, most of which sounded like bad charity singles and can be found on a cassette tape somewhere in her parents' loft.
After writing music for a very homemade stop-frame animation about aliens, a 15 year old Anna realised that writing music to help tell her stories was a lot of fun, but she had bigger plans… Convinced she'd be the next big Broadway star, she flirted with musical theatre as a performer until at 22 an opportunity to write some songs for a local pantomime arose. She was hooked. Six months later her first musical Feyly Manor was performed and she was off to London to seek fame, fortune and, as it turned out, a writing partner in the form of Emily Garsin. The two of them have been writing, singing and telling stories together ever since.
Anna occasionally writes cabaret songs. Here's one about menstruation.